---
/*<![CDATA[*/
/*<![CDATA[*/
Mamon (Sponge Cakes) are wonderful creations because while they come a very traditional round, light and fluffy nature, also have a lot of variations to them. Many people will have learned ways to bake them when they were young but over the years added their own little twist with a variation in ingredients to suit a family whim or a personal preference, and for those who have become more adept at baking sponge cakes, those variations seem endless in terms of flavors and styles.
Sponge Cakes Ingredients
1 cup cake flour
1 teaspoon baking powder
6 eggs, separated
1 teaspoon cream of tartar
1 cup sugar
1 teaspoon vanilla
1/2 cup vegetable oil
Sponge Cakes Directions
Preheat oven to 350 degrees. Grease muffin cups, or line with paper baking cups. Use a pan for large muffins, if available, or the standard cupcake size.
Sift together cake flour and baking powder; set aside.
Beat egg whites and cream of tartar until very foamy, but not stiff. While continuing to beat add: sugar, gradually, then vanilla and oil, then egg yolks, one at a time, then the flour and baking powder.
 
Fill muffin cups with batter, about 2/3 full. Bake 12 to 15 minutes or until a pick inserted in the center of a cake comes out clean.
 
Rest on wire rack and makes about 24 standard-sized cupcake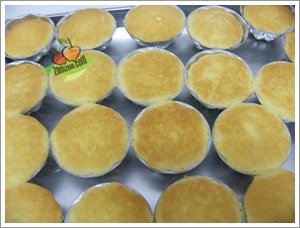 Now you could also make strange shapes out of your cakes. Even regular shapes would do but making strange shapes is more fun as my friends start to giggle all day considering all those strange cakes baked and kept beside them.
You can also add chocolate powder to make a chocolate sponge cakes. The process of making delicious sponge cakes is really simple but you just need to know the basic steps involved and the commonly repeated errors.
Recent Mamon (Sponge Cakes) Search Terms:
mamon recipe (32)
-
mamon cake (1)
-
make fluffy mamon (1)
-
fluffy mamon recipe (3)
-
thai sponge cake recipe (1)
-