Last Updated on by ThaiCuisine
KitchenAid Professional 600 Stand Mixer Review

At some time during your life you have probably heard the slogan "Nothing says lovin, like something from the oven". That is the very slogan that the Pillsbury Company, and the Pillsbury Dough Boy, have used for years to sell their baking products; and they certainly know what they are talking about.
Freshly baked foods bring a wonderful smell to your home and a great joy to your taste buds. Now you can bring those great smells and tastes to your home with the KitchenAid Professional 600 Series 6-Quart Stand Mixer!
KitchenAid has been one of the frontrunners of kitchen appliances for many years now and they show no signs of slowing up either. The KitchenAid Professional 600 is one of their most popular appliances today. One reason is because it holds more than a standard mixer, and the second reason is that it is a commercial grade product. This means you can mix up large batches of bread or cookies quickly and then still have some free time left for something else you love to do. Homemade foods not only taste better they show your family how much you love them.

Features of the KitchenAid Professional 600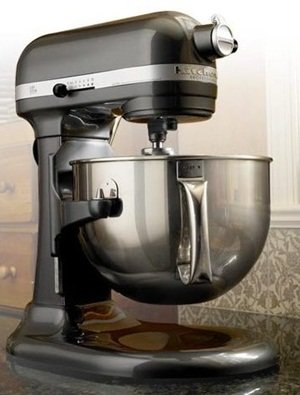 This stand mixer is all metal and comes with 10 speeds.
Sports a 575 watt motor for plenty of power.
Has a 6-quart stainless-steel mixing bowl for big recipes.
Direct-drive transmission.
Electronic speed sensor with auto shut-off when needed.
A soft start that minimizes splatters and messes.
Accessory 1: Wire whip.
Accessory 2: Burnished flat beater.
Accessory 3: Spiral dough hook.
Built with a Pouring shield.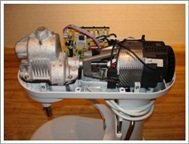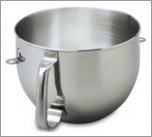 You will love having a commercial grade mixer right in your own kitchen. The all-steel gear transmission delivers unyielding power and can keep up the pace when it comes to mixing lots of goodies in one afternoon. This is great for parties, school outings, or church functions! Whatever the function is your homemade foods will be the talk of the day and make quick work out of large bowls of dough for breads or thick dough for chocolate chip cookies with this amazing stand mixer !
You will also love the stainless-steel mixing bowl because it has a contoured handle, making it easy to hold on to. Also the mixer has a bowl-lift design which helps get the bowl into the right mixing position. We found the multipurpose attachment hub really unique as well. You simply flip open the hub cover then easily place any of the attachments on your KitchenAid Professional 600. It doesn't get much easier than this!

How Much Does It Cost?
The KitchenAid Professional 600 stand mixer is a top-of-the-line mixer so it isn't cheap.  But when you consider what it can do and how well it's made the price is really quite good.  The retail suggested price for the Professional 600 is around $499.99*; however we did some research online and found the same mixer about $300 to $450 discounted price*.
What a savings !. The cost of KitchenAid Professional 600 varies depending on its color.
* research on 13 Sep 2012
KitchenAid Pro 600 Pros/Cons
Pros
Its 575-watt motor and 6-quart bowl makes the mixing of heaviest mixtures quite easy and comfortable. It is very helpful in making the big recipes and also save time for small recipes too.
The entire stand mixer takes up a little more than a square foot so you will want to clear a spot for it. This is one piece of equipment you will use regularly so it needs to be kept out and ready.
Cons
Finding a con about this unit wasn't easy because it does everything the manufacturer claims it does, but if we had to pick something it would be this. Buyers often complain that the mixture makes troubling transmission sounds and some people have also complained that the machine is taller in size.
What Are Customers Saying About This KitchenAid Mixer?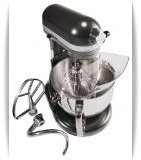 Exceeded my expectations!
For the price, this is DA BOMB
This is a reliable machine. It gets a workout in my household on almost a daily basis. No complaints! The things I like about this, and the KA brand in general, is the elegant design, which inspires confidence (being heavy and metal, rather than el cheapo plastic) and accentuates rather than detracts from kitchen decor.
I am very pleased with the performance of this mixer and don't think anyone would regret purchasing it.
This model is a great choice for a high volume home baker like me; great quality, durable and powered to do bigger batches.
Customer remarks have been paraphrased to save space.
KitchenAid Professional 600 Stand Mixer Review Summary
If you have been using a hand mixer for all your cooking and baking needs you really should consider the KitchenAid Professional 600 Stand Mixer.  A stand mixer is the choice of most cooks because it's sturdy, easy to use, and has many good attachments.
The KitchenAid Professional 600 has every attachment you might need except the meat grinder, which can be purchased separately.  The 6-quart capacity makes mixing up large batches of dough a breeze and saves you time in the kitchen.  Customers love this mixer and say it's easy to clean as well as being a workhorse.
There were a few customers who weren't thrilled with this mixer but not many.  One customer felt they weren't durable enough while another said the gears went out after 1 1/2 years. KitchenAid does have good customer service and these problems can be worked out to the customer's satisfaction we are sure.
As a whole we loved this mixer and feel it would be a great addition to any kitchen.  We highly recommend the KitchenAid Professional 600 Stand Mixer, it is manufactured to last and withstand different cooking tasks. Your kitchen will look more beautiful if you have KitchenAid Professional 600 readily available if you need it.
External Resources
KitchenAid Professional 600 Stand Mixer Review