Last Updated on by ThaiCuisine
KitchenAid PRO 500 Series 5-Quart Mixers Review

When you love to cook, you love to cook for large groups of people. In most cases, it can be difficult to find the kitchen utensils that can handle large servings of food. A machine operated mixer is certainly no exception to the rule. KitchenAid has come to the rescue with one of their latest mixers to hit the market. The 5-quart KitchenAid Pro 500 Series mixer is bound to impress even the most well-versed food gurus.

Industrial Design and Features of the KitchenAid PRO 500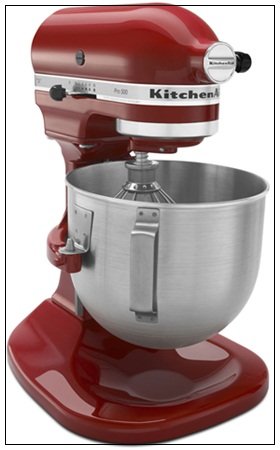 This stand mixer is all metal and comes with 10 speeds.
Fit a 325 watt motor for medium power.
Has a 5-quart stainless-steel mixing bowl for 9-cup flour capacity
Direct-drive transmission.
Safety the machine with feature auto shut-off.
A soft start that minimizes splatters and messes.
Accessory 1: Flat beater.
Accessory 2: Spiral dough hook.
Accessory 3: Wire whip.
Built with a Pouring shield.
Weighs 29 pounds, shows a strong structure metal.
The KitchenAid PRO 500 – Pros
At first glance we knew the KitchenAid Pro 500 would certainly get the job done for us. We tested this great mixer with some large batches to start, and it handled even the heaviest mixers with ease. Unlike belt-drive transmissions that often slow down and buckle under the pressure of thick dough, the KitchenAid Pro 500 never slowed down and left an even blend with every recipe we had. The stainless steel was a fantastic look for the kitchen and it fit right in with the rest of our appliances that were also stainless steel.
You also don't have to worry about maintenance. The Kitchenaid professional 500 is very easy to clean. The intelligent design of the machine made the bowl easily accessible. You don't have to tilt the mixer to remove the bowl. Once the bowl is removed, you can also clean the single-piece motor head and the stand.

The KitchenAid PRO 500 – Cons
When it comes to functionality, we still haven't found many cons about this product. It really does mix well, and even if we were to overload the mixer motor, the safety feature would kick in and the mixer would simply shut off. However, with great power comes great weight and size. The mixer is extremely bulky, weighing in at nearly 30 pounds and measuring 16 inches in height. If you've got to find a mixer that you can take on the go to various kitchens look elsewhere.

What Are Customers Saying About the KitchenAid PRO 500 ?
Users generally say the same things we do. They love the mixer and the results, but the product is certainly heavy and big for the average kitchen appliance. Overall, the KitchenAid Pro 500 is a mixer that's going to get the job done when you've got a large party, but if you don't see yourself feeding a family of more than 6, you're welcome to try something smaller.

KitchenAid Professional 500 Review Summary
The KitchenAid Pro 500 is made almost entirely of stainless steel, this direct-drive mixer features 10 speeds and a 325-watt motor that is sure to power through even the firmest potatoes you can through at it. With a 9-cup flour capacity, you'll be stirring up enough dough to cook for a party of 15. The KitchenAid Pro 500 prevents splatter with a soft start function.
Additionally, you'll get one of the most even blends possible with a clockwise beater motion and shift that spins counter-clockwise. Customers love this mixer and say it's easy to clean as well as being a workhorse.
As a whole we loved this model and feel it would be a great addition to any kitchen with cost around $300 to $600.
You can also choose color Nickel Pearl, Caviar Gloss, Copper Pearl, Dark Pewter, Empire Red and more color …
We highly recommend the KitchenAid Professional 500 Stand Mixer and conclude its worthiness and we also suggest you save money by research and compare more sites !.
Recent KitchenAid PRO 500 Series 5-Quart Mixers Review Search Terms:
kitchenaid pro 500 mixer reviews (1)
-
kitchenaid pro 500 (12)
-
KitchenAid PRO 500 Series 5-Quart Mixers Review