Last Updated on by ThaiCuisine
KitchenAid Stand Mixer Attachments and Accessories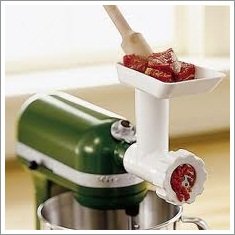 For years, KitchenAid has been earning the trust of several customers around the world because they offer state-of-the-art and advanced products that bring out the best in every user's baking experience.  They also provide top of the line attachment and accessories that will meet even the needs of professional bakers. If you would like to check out the different attachments that KitchenAid Stand Mixer provides, you are reading the right article. But before you explore them, you should know more first about what a Stand Mixer is and what it provides.
Introducing KitchenAid Stand Mixer
KitchenAid Stand Mixer is known to help you do more deliciously because of the fact that it is legendary in the field of baking. With its 10 settings and various attachments and accessories it will allow you to create several recipes from pasta even to ice cream. In the succeeding paragraphs, you will be able to check out all the functional and amazing KitchenAid Stand Mixer attachments and KitchenAid Stand Mixer accessories that will make your baking moments a whole lot special and remarkable.
Check Out the Several KitchenAid Stand Mixer Attachments and Accessories
The following are some of the KitchenAid stand mixer attachments and accessories that will help you come up with a world-class baked food item:
Multi-Function Attachment Pack – most of the parts of the multi-function attachment pack are dishwasher-safe. You can also count on their versatility because they can be utilized with any KitchenAid mixer. It also comes with 2 slicing and 2 shredding cones. Its grinder has coarse and fine grinding blades. The other attachments and accessories included in this multi-function attachment pack are as follows: vegetable and fruit strainer, shredder and slicer and food grinder.
Food Grinder – this grinder attachment can expand the flexibility of the Stand Mixer. This is very ideal for coarse grinding plates, grating cheese, grinding meats, making bread crumbs and mixing spreads, salsas and dips. What is great with this attachment is that most of its parts are safe for dishwashing.
Fruit/Vegetable Strainer – this attachment can prepare vegetable sauces, fruits, jams and chutneys effectively. You will also not have any problems with its assembly because it can be done without tools.
Food Tray – this KitchenAid accessory can increase the feeder funnel's capacity to process a large quantity of food items quickly.
Sausage Stuffer – you can use this attachment with a KitchenAid's food grinder in order to expand the flexibility of the stand mixer. It is very ideal for making the best and delicious Polish or Italian sausage, kielbasa and bratwurst. It also includes 2 stuffing tubes and an instruction booklet that will guide you on how to use it effectively. Another good thing about this is that all its parts are dishwasher safe for fast and easy clean-up.
Rotor Slicer/Shredder – this accessory comes with 2 shredding cones and 2 slicing cones. Each of them works in combination with metal shaft and plastic housing. This is also versatile because it works well with all the stand mixers of KitchenAid.
Grain Mill – this is designed for grinding low-oil and low-moisture grains such as grains, rice, corn, wheat and oats. To make the grinding process a whole lot faster and easier, it comes with a cleaning brush.
Can Opener – this is a heavy-duty KitchenAid accessory that you shouldn't have to miss. With its great features, you can have the chance to have a hassle-free baking experience.
Pasta Roller Set – this set includes linguine fine cutter, fettuccines cutter and pasta roller. Therefore, you can have the chance to perform your baking task easier.
Citrus Juicer – this is great for juicing the following fruits: grapefruit, oranges, limes and lemons. Apart from that, it is also very easy to attach and assemble.
Pasta Maker – this is one of the accessories that KitchenAid boasts because of the fact that it has a high quality and is durable as well. With this, your pasta will be very firm and delicious.
Ravioli Maker – this comes with rollers that measure 6-inches that can make the ravioli easily distributed.
Pouring Shields – this accessory can prevent the ingredients from splattering outside the bowl.
Ice Cream Maker – this can be used with different stand mixers and is effective in creating up to two quarts of ice cream.

With these KitchenAid Stand Mixer attachments and accessories, your baking moments will never be the same again. So, if you would like to say goodbye to your boring and dull moments in the kitchen, why don't you take time to shop around for these attachments now? With their top of the line features, every penny you spend for them will surely be worth it. What is even greater is that KitchenAid Stand Mixer attachments and KitchenAid Stand Mixer accessories come in highly affordable prices that will not cut a hole in your pocket.
KitchenAid Stand Mixer Attachments and Accessories