Last Updated on by ThaiCuisine
Chocolate Chip Cookies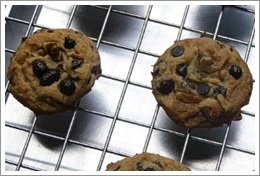 Chocolate chip cookies is originated in U.S. because of cookies are one of the easiest and fastest snacks to bake, so I try to make it to eat with coffee on morning.
A cookie comes in several different textures, shapes, sizes, and flavors for almost every taste, with the awesome chocolate chip cookie recipe being the favorite by a mile.
How to make chocolate chip cookies from scratch doesn't require a lengthy list of costly ingredients or an entire afternoon to bake. You can bake a delightful batch of chewy, flavorful, and incredibly chocolaty cookies in less than 60-minutes, including the prep and baking time.
Chocolate Chip Cookies Ingredients
Checklist all ingredients to make certain you have everything.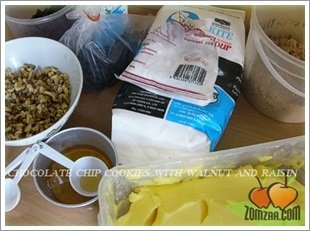 225g butter
150g granulated sugar
150g packed light brown sugar
1 teaspoon vanilla extract
2 eggs
500g all-purpose flour
1 teaspoon baking sodas
½ teaspoon salt
450g chocolate chips
220g chopped nuts
Additionally, it can also ruin your cookies if some of the mixtures sit at room temperature too long while you get the missing items.
How to Make Chocolate Chip Cookies
1) Preheat oven to 375F, prepare the oven rack and 2 large bakery tray with parchment paper
2) Heat the butter by microwave oven until melting
3) Mix the 1st ingredients: flour, baking soda, and salt in a small bowl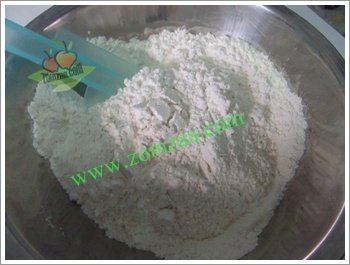 4) Mix the set of ingredients again as following:
the ingredients from above 3rd step
cool melted butter
granulated sugars
light brown sugars
vanilla
Put all in large bowl; Mix all with the stand mixer at high speed until fluffy about 2 – 3 minutes.
5) Lightly beat 1 egg with a fork in a small bowl to check rotten egg or not?
If good, pour only egg yolk into the KitchenAid Professional 600 bowl which contain butter mixture, repeat until completed / no remaining eggs. Beating with mixer until creamy about 1 – 2 minutes.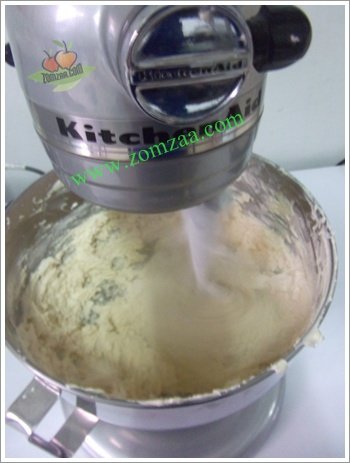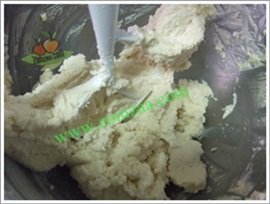 6) Scrape down the bowl using a rubber spatula and reduce speed to low and beat for a few seconds until blended.
7) Stir with dry ingredients, e.g. chocolate chips, nuts; reduce speed to low, then add chocolate chips and nuts.
Don't to forget to keep a few of chocolate chips and nuts for topping cookies later.
8) Scoop 1/4 cup batter for each cookie, arranging mounds 2 inches apart, on 2 baking tray. Flatten mounds into 2-inch rounds using moistened palm in your hand. Form remaining cookies on additional sheets of parchment paper.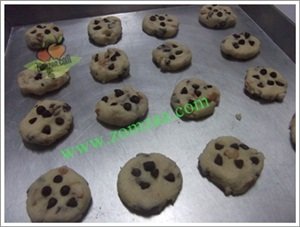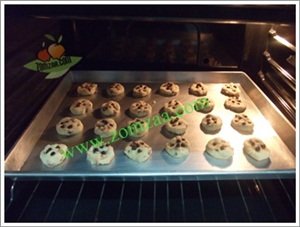 From picture; I don't have the baking sheets, so imagination about it !
Tip : When shaping the chocolate chip cookies, you will know if you have the fat-flour ratio right
not enough flour – it will stick to your hands, forms a messy looking ball
just right – won't stick to your hands, but just barely, forms a smooth ball
too much flour – dough has to be forced into a ball, crumbly dough, rough looking ball
9) Bake only 1 tray at a time, until golden or until lightly browned about 8 – 10 minutes.
Identifying when they're done :
underdone – the are tall, shiny in the middle, pale colored, break apart when move from the cookie sheet, fall through on the cooling rack
perfect – domed, puffy, show a couple of indications of browning, look a little underdone but are not shiny on the top, hold together during transfer
overdone – flat, many brown spots, may break when moved, hard and crispy when cooled
* Find more about the chocolate chip cookie tips and tricks for good taste and shape !
10) Cool Slightly; Move the cookies to a cooling rack to cool and continue making cookies in same manner.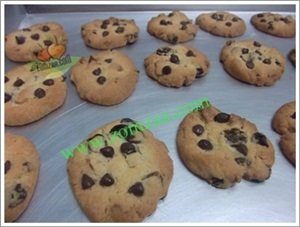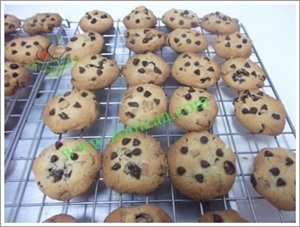 11) Cool completely, put into an airtight box.
Tricks : Keep the chocolate chip cookies in an airtight container and it is good up to 3 days in the refrigerator.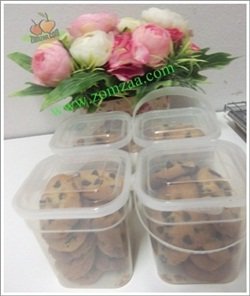 Chocolate chip cookie recipe are most famous kind of cookies recipe. Everyone has eaten one and most everyone loves them. You can find them in every supermarket and bakery shop you enter, and most every cook I know has a special recipe to make the perfect batch. Chocolate chip cookies are great because they are made with a few simple ingredients, most of which you stay the house always.
For mom, making chocolate chip cookies is a perfect way to get children started working in a kitchen and learning to cook. All kids love to help mom with mixing and pouring the ingredients together, and there is nothing better to let kids experiment with than chocolate chip cookies.
Kids can get involved and have a special job to do and they can see and taste the results of their hard work. Baking chocolate chip cookies is a great family building activity that can fill any weekend afternoon with fun.
From pros, why we not try one of your mouth-watering soft and chewy homemade chocolate chip cookie recipe today.