Last Updated on by ThaiCuisine
Fried Papaya Salad Ingredient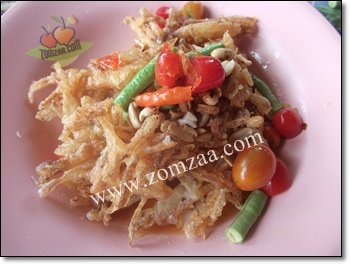 Paprika powder 3 tablespoon
5 cloves of garlic
A string bean pods
2 Tomatoes (medium size)
2 tablespoons dried shrimp
1 tablespoon sugar
1 tablespoon fish sauce
Lemon juice 2 tbsp
2 tablespoons roasted peanuts
80 g flour, fried
Lime 1/4 tsp
Cold water 3/4 cup
2 cups chopped papaya
Vegetable oil 2 cups
How to make Fried Papaya Salad (Som Tam Tod)
Prepare papaya, chopped and then mix with cold water and lime together in a mixing bowl
Coat chopped papaya well with flour
Fry papaya (step 2) in a pan filled with hot oil over medium heat until cooked thoroughly (golden brown), scoop up and drain batter-fried papaya on paper towels
Pound the pepper and garlic together in a rough enough and followed by a string bean
Then add tomatoes, sugar, fish sauce and dried shrimp seasoned with lemon juice to taste.
The taste is sour, sweet and salty (combine) then put roasted peanuts.
Put the fried papaya salad on a plate. Serve with fresh vegetables taste different.
From World's 50 most delicious foods Papaya Salad or Som tam is ranging in #46, here is the intro of it
"To prepare Thailand's most famous salad, pound garlic and chilies with a mortar and pestle. Toss in tamarind juice, fish sauce, peanuts, dried shrimp, tomatoes, lime juice, sugar cane paste, string beans and a handful of grated green papaya. Grab a side of sticky rice. Variations include those made with crab (som tam boo) and fermented fish sauce (som tam plah lah), but none matches the flavor and simple beauty of the original" .
However this recipe "Fried Papaya Salad" is adapt from the original som tan recipe by used "batter-fried papaya" instead of "green fresh papaya"