Last Updated on by ThaiCuisine
My family love catfish especially the frying method because of the soft and sweet fresh. I usually buy the fishes which are usually alive and I choose which fish that I want, they will get the fish and clean it for us. Since the fishes are so fresh, their flesh are sweet and soft.
Let 's go to see the Spicy Fried Catfish …
Spicy Fried Catfish Ingredients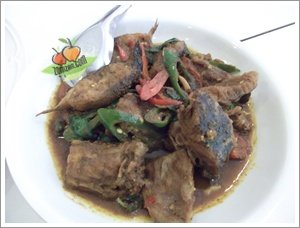 about 1 pound of catfish, cut through the body into "steaks" about half to one inch thick.
½ cup thai eggplant (small round green eggplants)
6 to 10 cloves garlic, crushed, chopped or mashed
2 stalks lemon grass (about 2 to 3 inches long), bruised
¼ cup very thinly sliced lesser ginger
½ cup sweet basil, chopped
¼ cup fish sauce
1 tablespoon palm sugar
You can, if you wish, add a few sliced chiles.
Combine the sauce ingredients.
Spicy Fried Catfish Method
Wash the catfishes, remove the fins, back bones, insides, the head and deboned. Wash again and drain. This step if we bought from the market shopkeeper will cut unneeded parts, so we only cut through the body into "steaks" about half to one inch thick.
Heat the oil in a wok over medium heat, in a wok  get enough oil to shallow fry the fish smoking hot. Add the fish and stir until thoroughly coated with oil, then add the prepared sauce (caution, it can splash – you may want to wear eye protection, or make judicious use of a splatter guard)
Stir fry for about 2 to 3 minutes, ensuring the fish doesn't stick to the pan and the pieces are all thoroughly sauced.
Remove to a serving dish and serve with steamed jasmine rice.
Garnish with kaffir lime leaves, sweet basil leaves and red chili. The usual Thai table condiments apply (i.e. red chiles in vinegar, green chiles in fish sauce, powdered red chile and sugar)
Final caution: this cooks quite quickly – don't overcook it or the fish will become rather hard! It is cooked when you can pry the flesh from the central bone stem of the steak using the tip of a table knife without undue effort.
This spicy fried catfish are absolutely delicious! There's no doubt your friends will beg you for this recipe, but don't give it to 'em. Just send them over to this URL – Pure and Simple so they can discover how to make this and other tasty dishes, too.
Recent Spicy Fried Catfish Search Terms:
thai spicy catfish recipe (14)
-