Last Updated on by ThaiCuisine
Steamed Sea Bass with Lime (Plaa Kraphong Neung Manao)
Seafood has always been my weakness and I would probably never let an opportunity go by to sink my teeth into some sumptuous seafood delight! Amongst the many dishes I have tried, a particular mention of the menu also known as the Steamed Sea Bass with Lime. This fish is used to whip up many mouth-watering delights for seafood lovers. Here's a look at some easy Steamed Sea Bass with Lime recipes you can have a fun time preparing at home.
Steamed Sea Bass with Lime – Ingredients
1 sea bass, about 450 grams
5 hot chilies
5 cloves peeled garlic
2 white spring onion stems cut into 1+1/2″ long pieces
3 tbsp lime juice
1 ½ tbsp light soy sauce
½ cup chicken stock
Thin slices of lime for garnish
Steamed Sea Bass with Lime – Preparation
Scale the fish, slit down the middle and remove the insides. Trim off the tail end, and clean thoroughly. Score diagonally on both sides, then arrange on a plate.
Chop the chilies finely, mix with the stock and stir well. Follow with lime juice and light soy sauce, stir again to mix well.
Pour over the fish, topping with sprinkle spring onion and garlic..
Steam over boiling water on high heat for 10 – 15 minutes or until done.
Remove from the steamer, garnish with slices of lime and serve while steaming hot.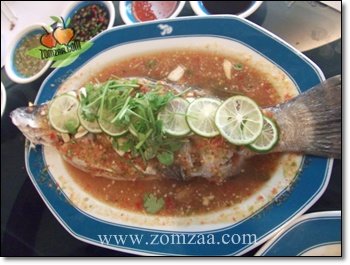 This "Steamed Sea Bass with Lime" recipe was tasty and extremely simple. The steaming methodology worked nice with a pair of filets employing a customary vegetable steamer in a very tall pot. The fish turned out moist and therefore the sauce was flavorful. My solely criticism was that the soy sauce ran everywhere the plate- perhaps if cooked with the remainder of the sauce, it might be thicker. Even my son (30 months) and my husband, who isn't a fish fan, liked it so much !
Steamed Sea Bass with Lime