Last Updated on by ThaiCuisine
Golden Crown (Kanom ja mong ku)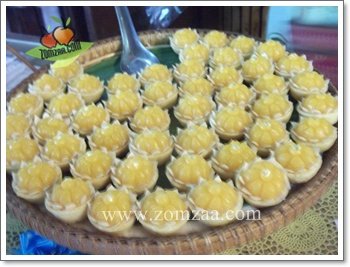 Flour for pie ingredients
½    cup wheat flour
1    tablespoon butter
1    egg yolk
½    teaspoon salt
2    tablespoons water
The base flour ingredients
¾    cup coconut cream
1    cup sugar
6    egg yolks
1    cup wheat flour
The watermelon seeds ingredients
½    cup watermelon seeds.
½    cup sugar
1    cup water
Method for the base flour
Heat coconut cream and sugar.  Simmer until condensed.
Add egg yolk, wheat flour, and orange color.  Mix them well. Stir until condensed.
Method for pie flour
Mix wheat flour with butter
Mix egg yolk, salt, with water.  Pour into flour mixture and knead well.
Roll the flour thinly and cut into circle.  Bake until cooked and light yellow.
Method for watermelon seeds
Heat the sugar and jasmine water until boiling.
Dry-fry watermelon seed with syrup until sugar dried and sharpen.
Method to assemble the Golden Crown
Dip the watermelon seeds in sugar.  Stick them at the edge of the flour.
Shape the base flour into small balls.  Put in the center and score into sections.
Shape the tiny balls and place them at the top as part of the crown.
The Golden Crown or call "Kanom ja mong ku" is the yellow thai dessert recipes look nice and quite delicious.
Recent Golden Crown (Kanom-ja-mong-ku) Search Terms:
thai dessert recipes with pictures (60)
-
Golden Crown (Kanom-ja-mong-ku)