Last Updated on by ThaiCuisine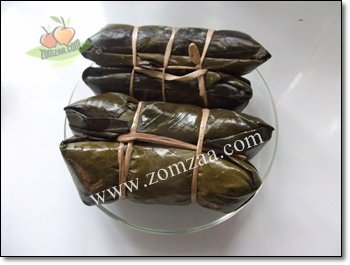 Khao Tom Mat  sometime call Glutinous Rice with Bananas / Sticky Rice with Bananas / Thai Bananas in Sticky Rice .
It does not matter what it name, let's go to cook …
This is basically sticky rice, bananas and black beans wrapped in banana leaves then steamed though it could also be grilled.
Khao Tom Mat Ingredients
1 kilogram glutinous rice
10 ripe naam waa bananas
1 cup cooked black bean
2 cups coconut milk
2 tbsp salt
60 g sugar
banana leaves, bamboo strips
Khao Tom Mat Directions
Soak the glutinous rice overnight. Wash and drain before using.
Dissolve sugar and salt in the coconut milk, strain and put into a pot. Add rice, stir constantly over low heat until dry. Turn off the heat.
Peel bananas, cut each into half lengthwise.
Tear the banana leaf into pieces about 7 – 8" wide. Lay in pairs so that the midrib side of one is opposite that of the other. Spread some rice in the center, place a slice of banana on the rice, cover with more rice, press several black beans into the rice, then wrap the leaf closely.
Tie the packet with bamboo strip, and steam over boiling water on high heat for 40 -45 minutes until the rice in cooked through. Remove from the steamer.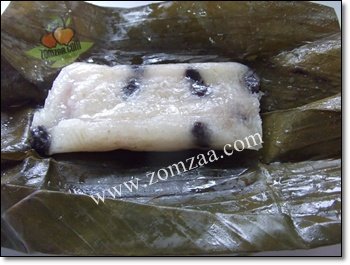 Tip : If the rice has not been soaked, wrap and tie the packet securely and boil in hot boiling water for 1 hour.
Khao Tom Mat ( Glutinous Rice with Bananas)