Last Updated on by ThaiCuisine
Thai banana fritters (Kluay khaek)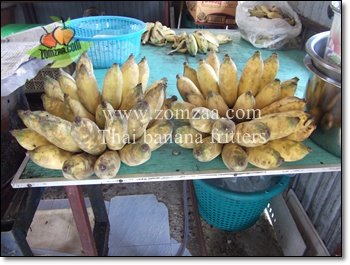 Ingredients
9 maam waa bananas
30 grams grated coconut
80 grams rice flour
20 grams tapioca flour
20 grams white sesame seed
1 tsp salt
3 tbsp sugar
220 grams water
500 grams cooking oil
Thai banana fritters Directions
Mix both kinds of flour with water, sugar, salt, white sesame seeds and grated coconut.
Stir until thoroughly mixed to obtain a fairly thick batter and no lump remains.
Peel the bananas, slice each lengthwise into 3-4 slices.
Heat the oil in a deep pan over high heat, when the oil is hot, dip the banana slices in the batter and fry until golden brown.
Remove and drain.