Last Updated on by ThaiCuisine
Khao Soi Kai (Northern Thai Chicken Noodles Curry Soup)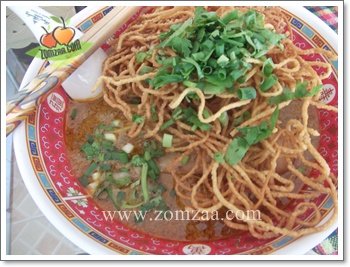 Northern Thai Chicken Noodles Curry Soup Ingredients:
1 pound egg noodles
2 chicken drumsticks
4 cups coconut milk
2 tablespoons red curry paste
2 teaspoons curry powder
1 teaspoon salt
2 tablespoons vegetable oil
For side dishes (Condiment):
1 to 2 tablespoon shallots, finely chopped
4 tablespoon pickled cabbage, finely chopped
2 to 4 slices lime
1 tablespoon roasted chilli paste
1 tablespoon dark soy sauce
Northern Thai Chicken Noodles Curry Soup Direction:
Using a deep-frying pan, deep fry approximately 3 ½ ounces of noodles until golden brown. Then, set aside for garnishing. In a pot, brown the chicken drumstick (without oil) until it becomes cooked. Then, add salt and coconut milk. Bring to a boil while stirring constantly. Reduce the heat, and then cover the pot and simmer for 1 hour.
Using the remaining oil, stir fry the red curry paste until you can smell the aroma. Then, add the curry powder and stir fry for another 20 seconds. Pour the curry mixture into the coconut milk pot. Stir and simmer for another 30 minutes using low heat.
Boil water using a large pot, and add the remaining noodles. Remove the noodles when cooked, and place in a pot of cold water for 1 minute. Then, drain. When serving, top the boiled noodles with curry, the chicken drumsticks, and crispy noodles. Then, prepare the side dishes which include separated piles of shallots , pickled cabbage, lime slices, roasted chilli paste, and dark soy sauce.
Northern Thai Chicken Noodles Curry Soup