Last Updated on by ThaiCuisine
Fried Mini Spring Rolls (Po Pia Tod)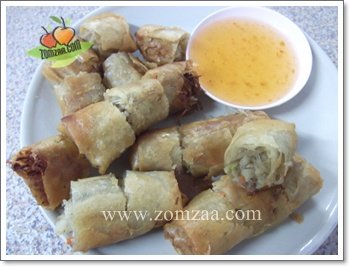 Recipes for these fried mini spring rolls (Po Pia Tod) that you're not likely to find both of family recipes that are an identical.
It's fairly safe to say, though, that the ones most commonly found in the a central of Thailand usually contain glass noodles or mung bean threads (wun sen), bean sprouts, and wood ear mushrooms.
Good Po Pia Tods must taste good on their own; my opinion.
By the way, I likes to use lump crab meat in this recipe.
You can use any meat you want.

Fried Mini Spring Rolls Ingredients :
2 ounces bean thread noodles (cellophance noodles)
¼ cup dried tree ears or 6 dried Chinese black mushrooms
½ teaspoon whole black peppercorns
3 garlic cloves
1 tablespoon fresh coriander roots, coarsely chopped
¾ pound fresh ground pork
¼ pound shrimp, shelled, deveined and chopped, or ¼ pound fresh crab meat, flaked
1 tablespoon fish sauce
2 teaspoon sugar
4 shallots, finely chopped
1 carrot, peeled and grated
¼ pound bean sprouts, tails removed
8 12-inch rice-paper rounds
peanut oil for deep-frying
crisp lettuce leaves as an accompaniment
fresh mint leaves as an accompaniment
Spring Roll Dipping Sauce:
¼ cup sugar
¼ cup water
½ cup red wine vinegar
2 tablespoons fish sauce
¼ teaspoon red chile flakes
2 tablespoons chopped cilantro leaves
2 tablespoons chopped peanuts
Fried Mini Spring Rolls Directions:
In 2 separate medium bowls, soak bean thread noodles and tree ears in warm water until soft and pliable (about 15 minutes).
Drain the noodles and cut into 1 inch lengths; set aside. Drain and rinse off sand from tree ears. Pinch off and discard hard centers. Coarsely chop and set aside.
Pound peppercorns, garlic and coriander roots into a coarse paste, or chopped together in a spice mill. Combine pork, shrimp or crab, fish sauce, peppercorn mixture, and 1 teaspoon of the sugar.
Add shallots, carrots, bean sprouts, and the reserved bean thread noodles and tree ears. Mix together thoroughly. Dissolve remaining sugar with 1 cup water in a bowl. With kitchen shears, cut rice paper into quarters.
Lay one sheet of rice paper with the curved edge nearest to you, on a flat surface.
Brush thoroughly with water. Let it sit until it softens into a thin flexible film (about 1 minute). Mold 1 tablespoon of pork mixture into 1 inch wide by 2 inch long cylinder and put it near the curved edge of rice paper.
Fold bottom of rice paper over filling. Fold left and right sides over each end to enclose filling.
Continue rolling until completely sealed.
Repeat with remaining filling.
Preheat wok until hot. Add enough oil to a depth of 3-inches. Heat to 325°F. Add a few rolls and deep-fry for 10 seconds.
Immediately increase to high heat or 375°F and deep-fry until crisp and golden brown (about 6 minutes).
Remove and drain. Serve wrapped in a lettuce leaf with a mint leaf. Ready to serves.
Fried Mini Spring Rolls (Po Pia Tod)