Last Updated on by ThaiCuisine
"Prawns and mung bean noodles in clay pot" in thai language call "kung op wunsen" it's low calories and delicious more :>
Prawns and mung bean noodles in clay pot Ingredients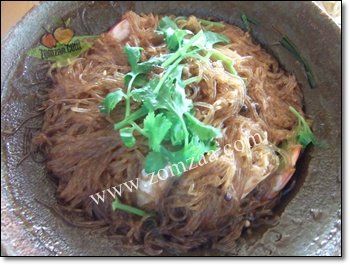 1  cup mung bean noodle
3  slices crushed mature ginger
3  crushed coriander roots
1  onion, finely sliced
1  tbsp crushed peppercorn
¼ tsp salt
1  tbsp sugar
2  tbsp light soy sauce
1  tbsp seasoning sauce
1  tbsp oyster sauce
1  tbsp whisky
1  tsp sesame oil
2  tbsp cooking oil
Tips slice spring onion about 3 – 4 inches long for topping on noodles
Prawns and mung bean noodles in clay pot Directions
Wash the prawns and trim.
Place a wok of oil over medium heat
When the oil is hot, fry coriander roots / ginger / peppercorns and onion until fragrant. Leave from the wok and put to a mixing bowl.
Add the noodles and the other ingredients, mix well.  Follow with the prawns and mix again.
Move to a clay pot, cover with a lid and place over low heat for 30 minutes until everything is cooked.
Remove from the heat.
Sprinkle with spring onion, best when served steaming hot.
Prawns and mung bean noodles in clay pot