Last Updated on by ThaiCuisine
Rice Crackers Served with Minced Prawn Sauce (Khao tang naa tang)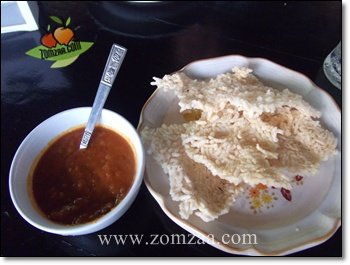 Rice Crackers Served with Minced Prawn Sauce – Ingredients
300 grams rice cracker or sandwich bread
½ cup minced pork, ½ cup minced prawn
1 ¾ cups coconut milk, ¼ cup ground roasted peanut
1 dried red spur chili, seeded and soaked in water
1 tbsp finely sliced garlic, 1 tsp finely sliced coriander root
1 tbsp finely sliced shallot, 1 chopped coriander plant
¼ tsp pepper, 2 tbsp sugar
1-2 tbsp fish sauce
4 cups cooking oil, for deep – frying
Rice Crackers Served with Minced Prawn Sauce – Directions
Preheat the oil over medium heat.
Fry the rice crackers a few pieces at a time. Turn to brown on both sides, remove and drain.
Pound the garlic, coriander root, dried chili and pepper finely.
Bring the coconut milk to the boil over medium heat. When a film of oil surfaces, add the coriander paste and sauté until fragrant. Add minced prawns and pork, stir to combine and cooked through.
Season to taste with sugar and fish sauce, stir well.
When the mixture returns to the boil, stir in peanut and shallots. Remove from the heat, sprinkle fresh coriander over the top.
Serve with fried rice crackers or toast.
Rice Crackers Served with Minced Prawn Sauce