Last Updated on by ThaiCuisine
Seafood Salad (Yam Talay)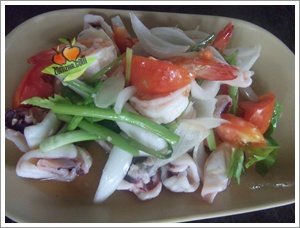 As opposed to having the same old kind of salad all of time, choose new but healthy salad choices you can pick up into your menu in each week. You can turn a regular salad into something sensational by adding seafood, or make a whole new type of salad with a good seafood salad recipe. If you wish to eat better, remember that a salad you make is often healthier than the ones you can get the deli or off a shelf.
Seafood salads can be made of all sorts of the ingredients.
Crab, Lobster, Fish and Shrimp are all popular ingredients, use lime juice to create a fabulous seafood salad.
Seafood Salad Ingredients
150g crab meat
150g squid – cut into pieces
50g mussels (meat only)
50g fish fillet – blanched bite-sized pieces fish
100g shrimp (prawns) – wash, peel and devein
Seafood Salad – Yam Dressing
4 tbsp fish sauce
5 tbsp lime juice
20 small fresh green and red chilies, finely chopped
3 stalks of fresh lemongrass, thinly sliced
1/2 medium onion, thinly sliced
1 tomato, thinly sliced lengthways
1/2 cup chinese celery – roughly chopped
4 spring onions, thinly slice 1 inch
1 tbsp melted palm sugar
Seafood Salad Preparation
Put some water into a pan and bring to a boil. Cook crab meat, squid, mussels, fish and prawns separately.
Once cooked, mix the seafood together and set aside.
Put fish sauce, lime juice, chilies and melted palm sugar into a bowl and mix together.
Add seafood to the sauce mixture. Stir well so that the seafood is well covered with the sauce.
Then add together lemongrass, onion, tomato, chinese celery and spring onions.
Mix together and serve immediately.
More dramatic kind of seafood salad recipe that you can try.
You don't need to stick with just one kind of seafood, by add salmon or even tuna to a salad.
Noted about Tuna Salad, the next salad recipe to cook !
Tuna salad may be easily prepared that why it's become standard across the U.S. both in lunchboxes and poolside at country clubs. Some people are uncommonly particular about the ingredients, they prefer mayonnaise, some oil, onions, celery and relish are other common additions.
Tuna salad is versatile and can be used on a sandwich like a tuna melt or served as a true salad over mixed greens or vegetables.
Seafood Salad (Yam Talay)