Last Updated on by ThaiCuisine
Stir-fried vegetables contain essential vitamins, minerals, and fiber that may help protect you from chronic diseases and if you mix some vegetables (e.g. dark green, orange, starchy, dry beans and peas and other), more nutrients should come primarily from this healthy food recipe.
People who consume a diet with only a little percentages of fruits and vegetables, those who eat more generous amounts as some a healthful diet are likely to have reduced risk of chronic diseases, including stroke and perhaps other cardiovascular diseases, and certain cancer.
As a kid, you may have avoided them like the plague but like your mom told you "vegetables really are good for you"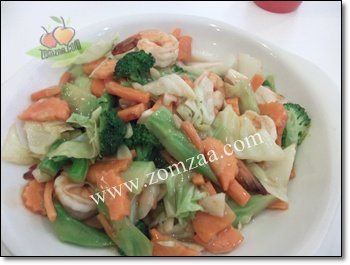 Stir-fried mixed vegetables Ingredients
1 Carrot
50 g Cabbage
50 g Brock Choline
12 big fresh water shrimp, about 100 grams each
1 tbsp chopped garlic
¼ tsp salt
3 tbsp oyster sauce
3 tbsp cooking oil
Stir-fried mixed vegetables Directions
1) Wash the shrimp, peel and devein.
Remove the heads and tails, set aside.
2) Wash the carrot, cabbage and brock choline.
Peel the carrot and slice diagonally into bite-sized pieces.
Cut the cabbage into bite-sized pieces and slice brock choline in the small pieces.
3) Heat the oil until hot, fry garlic over  medium heat until golden and fragrant.
Add the prepared shrimp and fry until done, add the salt and all the vegetables.
Stir and cook until everything is done, season to taste with oyster sauce and stir to blend.
4) Turn off the heat.  Put on a serving dish, also good when serve during piping hot.
Stir-fried mixed vegetables it can be the one of simple vegetarian healthy recipes if you don't put the shrimp.
It is ready to serve you with more than your daily need of Vitamin A and Vitamin C.
It also contains fiber, magnesium, iron and antioxidants.
So, as you can see vegetables is overall a nutritious fruit !.
Stir-fried mixed vegetables