Last Updated on by ThaiCuisine
Thai Grilled Pork (Moo yaang)
Pork is an exceptionally adaptable meat that may be modified in respect to the likings and the savors of the individuals.
Thai grilled pork is the popular recipes among pork lovers.
These kind of dishes are extraordinarily easy to make and appropriate for fast meals.
Thai Grilled Pork Ingredients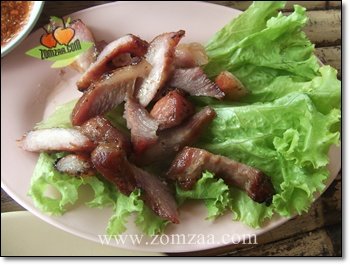 1 kilogram pork shoulder, cut into 2″x4″x4″ pieces
2 tsp juice from pounded fresh mature ginger
1 tsp salt
4 tbsp sugar
2 tbsp honey
2 tbsp sherry
2 tbsp light soy sauce
1 tbsp sesame oil
Fresh vegetables: cucumber, tomato
Coriander leaves and spring onions for garnish
Thai Grilled Pork Directions
Marinate the pork with other ingredients for at least 6 hours.
Grill the pork until done, brushing occasionally with the marinade while grilling.
Slice the grilled pork and arrange on a serving dish. Garnish with coriander leaves and green shallots as a finishing touch.
Serve with sweet chili sauce and fresh vegetables.
The mentioned tips would certainly present you an inspiration of barbequing or grilling the pork, though, the cooking time and the temperature may be changed in respect to the need for Thai Grilled Pork.
Moo Yaang is often served with a dipping sauce which seems to vary from vendor to vendor.
Jaew, dried chili dipping sauce, is one of the common accompaniments, and you can certainly serve it with this grilled pork.
You can also give it as a try to cook Thai Grilled Pork by following step above.
Thai Grilled Pork (Moo yaang)